pyxis nautica & Dániel Szalai wrap 19th century palaces in gold
In downtown Budapest, HungaryPyxis Nautica and Dániel Szalai transformed four 19ecentury palaces on an urban scale talks by hiding them in golden fabric. The structures, built between 1817 and 1922, are currently being conserved and restored to be reborn as exclusive office buildings and public cultural spaces for modern use. By wrapping their historic facades in gold, the project not only secures these architectural treasures until their renovations begin, but also artistically highlights them while challenging our perception of the built environment. The golden envelope invites passers-by to approach the installations, to think about them and to interact with them by exploring their materiality and their symbolism.
Almasy Palace | image of Balint Jaksa
a reflective intervention on an urban scale in downtown budapest
Based in Budapest architecture and design studio Pyxis Nautica's collaboration with artist Dániel Szalai was born after an order from a Hungarian property developer, Optinvest Zrt. Between 2022 and 2026, the historic structures will be redeveloped to serve as offices as well as new public amenities, including cafes and cultural and event spaces. Their transformation will be carried out with respect for the heritage status of the palaces, aiming to preserve and restore as much as possible their original brilliance.
The project wraps the facades of four heritage-protected palaces with golden fabric, covering a total area of ​​1,100 square meters (11,840 square feet). The special, water-repellent cover serves both as a safety net for construction until the start of the renovation of dilapidated buildings, as well as a dynamic artistic installation element. Transforming the way observers typically react to their built environment, the project invites passers-by to think about and interact with these buildings in a different way, rather than viewing them as mere landscapes traversed on their daily journeys. The reflective wrapper radiates warm light while creating a hazy mirror, and invites viewers to come closer and touch the palaces, experiencing the buildings as physical objects.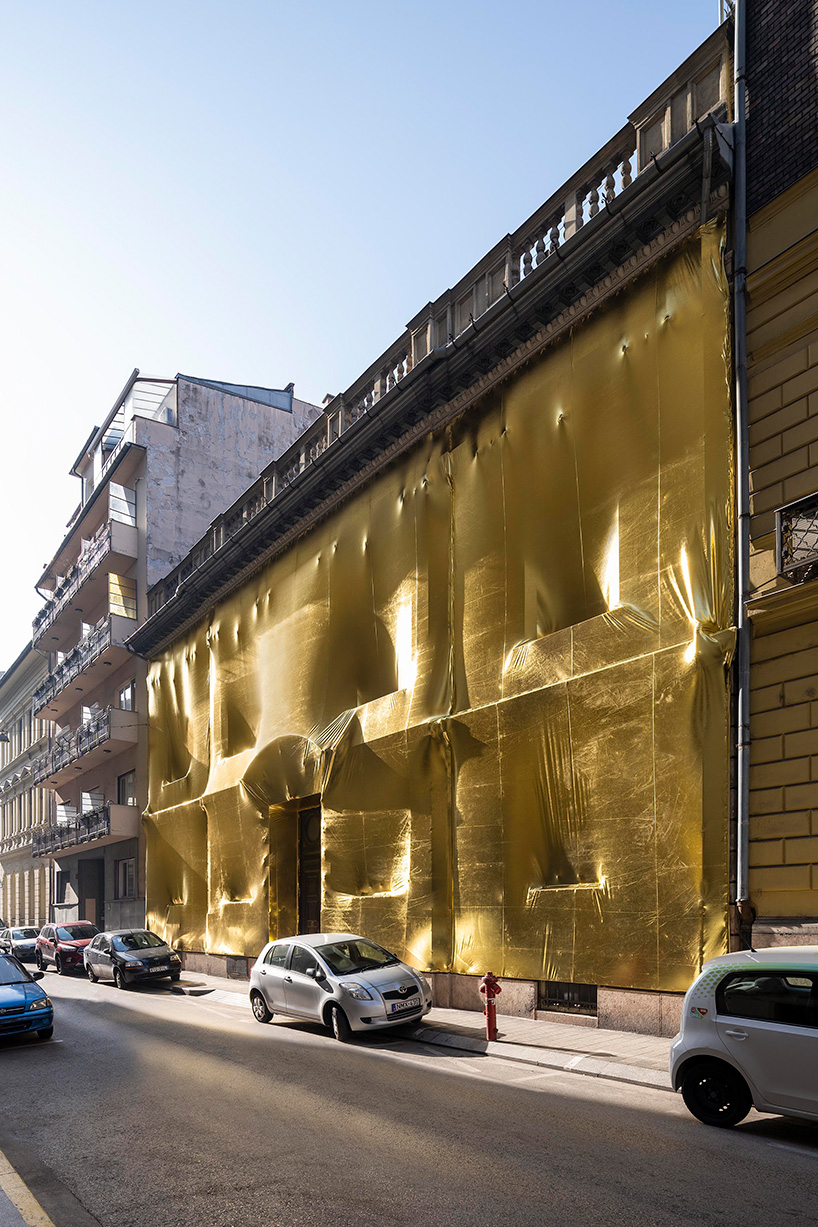 the Palais Wagner wrapped in gold | image of Balint Jaksa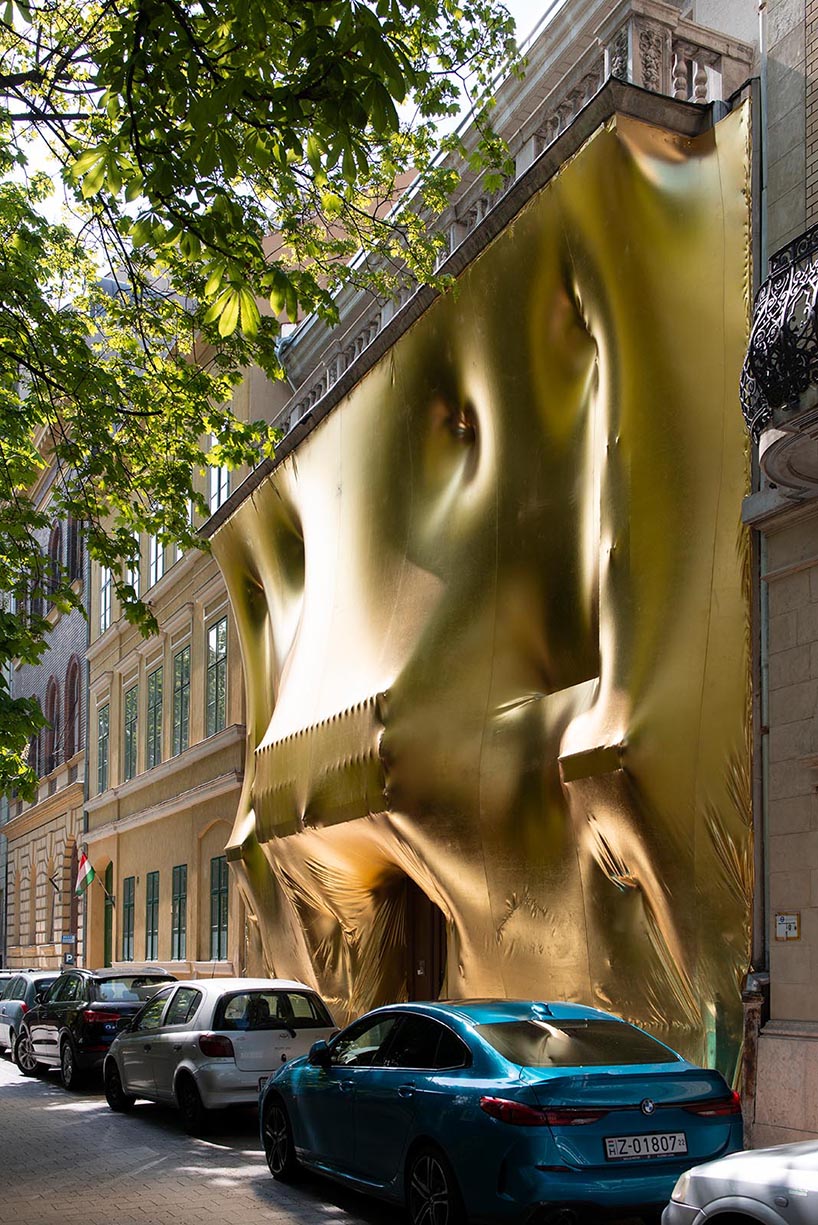 Dreher Palace | image by Daniel Szalai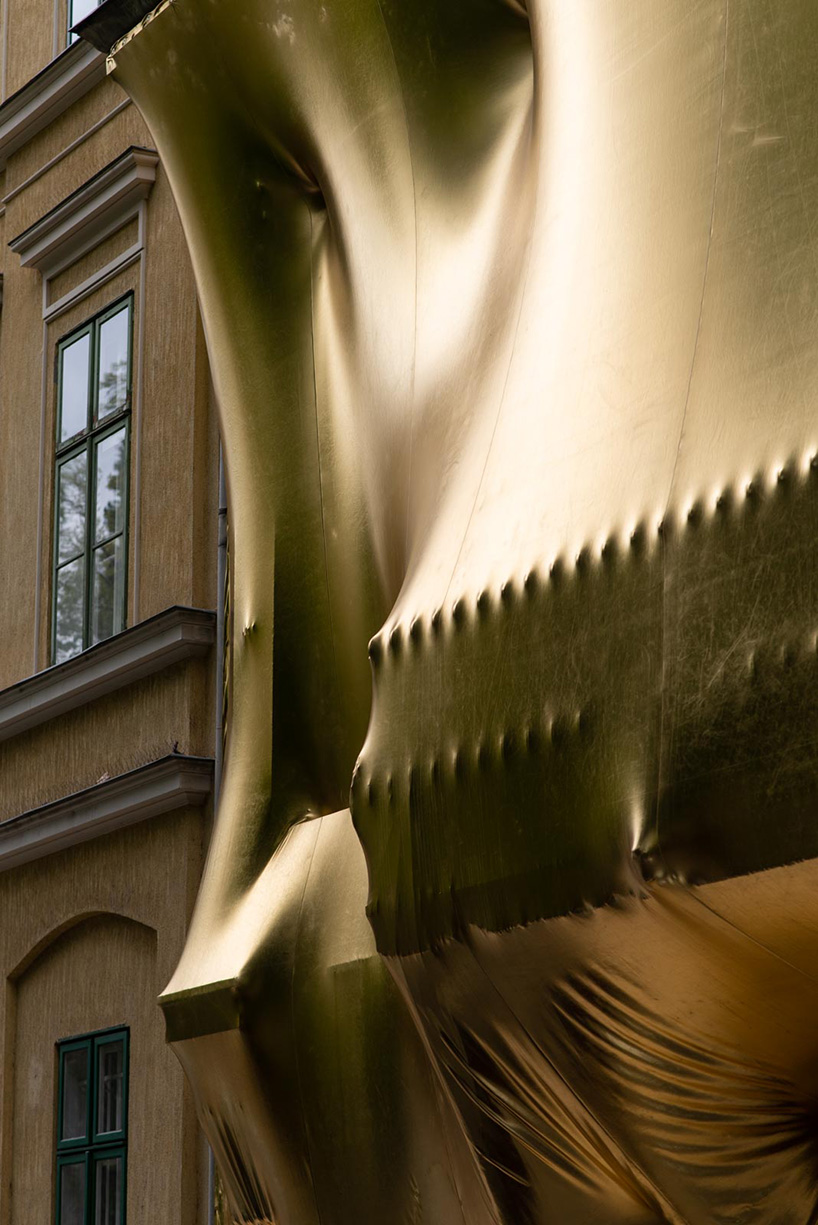 Dreher Palace Wrought Iron Balcony Railing Wrapped in Gold | image by Daniel Szalai